Bloom Pest Control & Home Services specializes in crawl space services—so much so that their crew are widely known as "The Crawl Space Vikings." Over the past few decades, even Hollywood has become increasingly aware of the challenges faced in crawl spaces, and has demonstrated that awareness in several thinly-disguised documentaries:
Crawlspace 1972
A childless middle-aged couple adopt a troubled youth they find living in their crawlspace and attempt to get him to rejoin society.
Crawlspace 1986
A man who runs an apartment house is the demented son of a Nazi surgeon who has the house equipped with secret passageways, and hidden rooms. Klaus Kinski plays the "good doctor" turned apartment manager, who haunts the building's crawlspaces and heater ducts.Terror ensues, but the heroine escapes.
Crawlspace 2012
The subject of an experiment deep in the heart of the unforgiving Australian desert wakes in a crawl space with no memory of her past. Pine Gap, a top-secret government facility operated by the United States military comes under attack from unknown forces, and an elite team is sent in to extract the military scientists. But their mission quickly becomes compromised when they find a crowd of disturbed patients from the medical sector overrunning the facility and encounter a beautiful and mysterious young woman with no memory.
Crawlspace April, 2018 (True story)
A mountain lion known among wildlife officials as specimen P-22 was milling about under a home in tony Los Feliz, California, CBS Los Angeles reports. Neighbors and news crews gathered around the home where the animal had gotten cozy in the crawl space, according to the California Department of Fish and Wildlife.
P-22 has appeared in pictures in magazines such as National Geographic. It was discovered at the home when a worker with a security company encountered the cat. L.A. Animal Services was called and worker Armando Navarrete ventured below the home, where he came within 10 feet of the animal. He immediately realized this was a matter for the Department of Fish and Wildlife.
"I should have probably exercised more caution, but I didn't think it was that severe because we get calls for cats, big cats, and it's usually a bobcat or a domestic cat," Navarrete said. "First, it's disbelief, because you can't believe it's actually a mountain lion."
"I really thought I was being punked," the homeowner told CBS Los Angeles. "He had gone into the crawl space and came face to-face with the lion. Then, he was up there terrified, saying, 'Dude, I've got to finish this job another day!"'
Crawlspace TODAY
            If you haven't checked YOUR crawl space lately for ex-Nazis, social misfits, alien experiments, or mountain lions, you would do well to contact the Crawl Space Vikings at Bloom Pest Control & Home Services. You never know what they might find.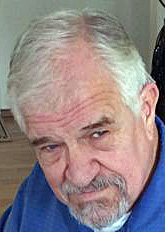 Author Dan Bosserman
"Dan Bosserman, a resident of Oregon since 1950, grew up 13 miles from Sandy. He has lived near Sandy for 40 years and has been a writer for local newspapers, known for his historical columns. He is a volunteer in community organizations, including the Sandy Historical Society, which, along with descendants of original settlers, has provided photographs for this history of Sandy."