About Bloom Crawl Space Services
Portland, OR | Vancouver, WA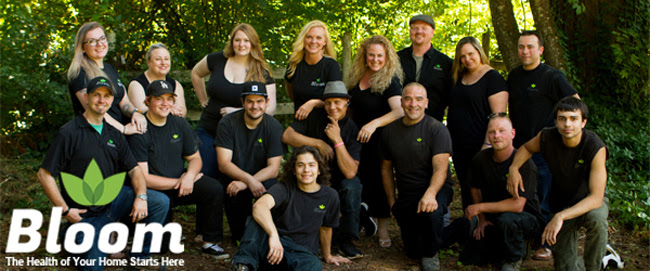 Family Based
At Bloom our company is one big, crazy family and we love that about us. We have every personality type and sometimes we fight, but we make the best team and we love each other. When we say that Bloom is a family based company, we mean it. Bloom started With Nathan and his wife, he then hired his good friend to help as Bloom began to expand. Next step was to have his best friend become the co-owner of the company and after that, Scott's family was hired too. We hire outside from our friend and family base as well, and every time we do hire someone, they feel like they're apart of the family the second they get here. As for our customers, you're family too! Without our customers, we wouldn't be here, you guys are amazing and we love you like you're family.
Blooms Culture of Excellence
When Nathan started Bloom, he wanted this company to be different. Everything we do is with our customers in mind; so he developed what we call today, the culture of excellence. The quick meaning of it is, everything we do is excellent. Every job we leave is left cleaner than when we got there, every question the customer has is answered, and everything that we can do to help our customers has been done. All our employees at Bloom are hardworking and have the highest respect for our customers and their homes. Our culture of excellence means that we give nothing but the best to our customers, because that's what you deserve.
The Story of Bloom
Where to start… I guess from the beginning, like any good story. In 2012, Nathan decided to take a huge step that would alter him and his families' lives. He started Bloom Pest Control and Home Services. Nathan wanted a company that did everything they could for their customers, that earns respect and trust of the people of Oregon and Washington. High ethical standards, culture of excellence, trusted, eco-friendly, pet-friendly, and safe for the family.
Next step, he hired on his old friend Seth and they started working. At first their only clients were friends and family. Then news of how amazing their customer service was and how great his products work, spread like wild fire. Soon friends of friends were calling, strangers who saw a post online, people calling from Washington asking if they would go up there to help with their problems. It was crazy! Soon Nathan and Seth couldn't handle the amount of business they were getting and needed to hire more employees to help!
A few years later Nathan hires on his best friend Scott to help with marketing, and things begin to really move. So much so that Bloom required all of Scott's attention. That's when the merge began! Sleepless nights, lots of coffee, paperwork, and success. Scott is part owner. Bloom is taking off like a rocket and we need more man power. We offer same day/next day service, and we're booked out a month and a half! More man power! Nathan and Scott went on the hunt to find people who fit into our culture of excellence. We hired on more techs, office team members and crawl space crew members.
Today… We have expanded Bloom a lot over a short period of time and it's great, we feel so blessed here. We want to help as many people as we can, the more people we help the more people we can hire on and give jobs to. The story of Bloom is never ending, every day is a new chapter full of wonderful people. I will leave you with this. Every day Bloom is striving to be better than the day before, to go above and beyond what is expected of us. We truly care about our customers and employees, and that's something that will never change.