Crawl Space Vents
Crawl spaces are an important part of the structure of the house, as most homeowners know; it keeps the house off the ground, which discourages bug infestations, is less costly than a basement, and makes it easier to access the heating and air conditioning work of the house. Properly maintained crawl space vents are an important part of a home, and for good reason.
Importance of Crawl Space Vents
Crawl spaces are necessary structures of homes, but unfortunately attract lots of unnecessary problems, like mold and rot, due to the moisture it can carry. Because of this, it has long been recommended for homes with crawl spaces to invest in a good ventilation system. Proper ventilation prevents moisture from accumulating and keeps the crawl space relatively dry and temperate.
Since a home shares 40%-60% of its air with the crawl space, it's very important to make sure the crawl space is as clean and dry as possible to maintain good air quality.
How We Can Help
Bloom Crawl Space Services is a family owned company that can offers free crawl space estimates. Our trained professionals can come to your home, inspect your space, and recommend which service to utilize in order to protect your home from crawl space issues. We offer high quality repairs and guarantee our work . And in event some pests do end up in your space, we offer comprehensive pest control as well; we aim to take care of you on all fronts!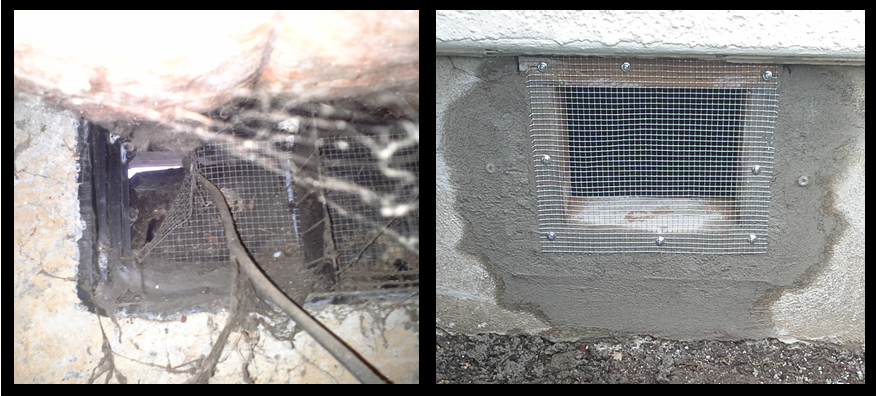 Broken Vents
A broken vent makes your crawl space more vulnerable to moisture, meaning your own may become more susceptible to mold and other fungi. Because your home shares so much of its air with your crawl space, it can potentially leave you vulnerable to inhaling these spores and getting you and your family sick. A broken vent also makes an entry point to your house for critter infestations, ranging from rats to insects.  Critters like the house mouse can extend its area to the rest of the house by finding cracks  in the walls and floors, and soon spread to the rest of the home!
Bloom Editor Danielle Schneider

Bloom Reporter Leah Iannacone